Mark Bellison: Hi, this is Mark.
Anna McDoogles: Oh, hi Mark. Didn't you get my email?
Mark Bellison: The one about being not good enough for you?
Anna McDoogles: That's the one.
Mark Bellison: Yeah, got that. Cheers.
I love Ricky Gervais.
Not this one....
Nor this one... but we're getting closer...
This one!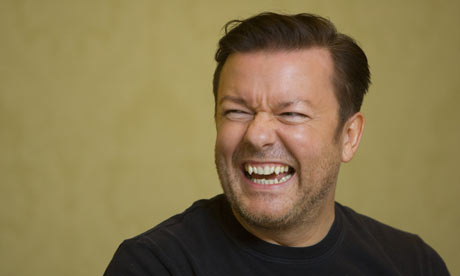 He's shorter than me, a bit unfit looking, he's got fangs that look like they might puncture skin, he's... well he's Ricky Gervais, and he cracks me up. Totally not the point. I really did not think I would enjoy The Invention of Lying. If I enjoy the previews of a movie I tend to hate the movie itself. Not so much this time! But I'm not here to do a movie review. If you want to see it, get your ass out and pick it up at Redbox or order it off Netflix.
My point is, we can't help who we are attracted to. Me... I want someone who makes me laugh, even if I look completely ridiculous when I do. Confidence is sexy as hell. Working on that myself!
So what does it for you?